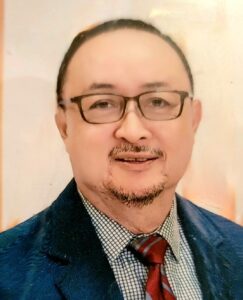 Rozzano Locsin RN; PhD, FAAN
Phone: 63-961-833-4994
E-mail: locsin50@gmail.com
Expertise Areas:
International Nursing, Global Health Experience, Theoretical Nursing, Philosophies of Science
Languages spoken, read/write*:
Cebuano, Pilipino, English
Select Publications:
Locsin, R.C. (2023). Nursing and Humanities as Disciplinary Worlds in Nursing: A Review of Graham McCaffrey's Nursing and Humanities 2020 Book. Nursing Science Quarterly. (first pub, December 2022)
https://doi.org/10.1177/08943184221135168.
Betriana, F., & Locsin, R. C. (2022). Variations on a theme: Labeling patients as persons, the nursed, or client in nursing. Belitung Nursing Journal. https://doi.org/10.33546/bnj.2427
Tubongbanua, R.A., Dyar, K., Brown, C., Locsin, R. (2022). Co-Creating Caring with Technological Competency as Caring in Nursing in the Anthropocene Era. International Journal for Human Caring.
(Accepted for publication, June 27, 2022).
Chen, S. Locsin, R. (2022). The Realities of Being: A Commentary on Human Wholeness in Nursing. A Commentary. Nursing Inquiry . First published: 08 March 2022. https://doi.org/10.1111/nin.12488
Arde, O., Purisima, E., Ito, H. Locsin, R.C. (2021). Reimagining Quarantine: Assuring Hopefulness in Nursing and Healthcare. Nursing Inquiry. e12481 https://doi.org/10.1111/nin.12481.
Present/Future Directions
The ongoing studies advancing the theory of Technological Competency as Caring in Nursing have catapulted theory-based nursing practice to a higher level, this time moved by the demands and constraints of the COVID-19 pandemic. Technology has provided healthcare a new way to counter the threats of contamination furthering the spread of diseases aided by physical contact and issues of societal relationships. Space, place, and the domain of environment in the metaparadigm of nursing
have clearly attained an active phase of discussing influences on human health and well-being. Nursing in an environment dense with technologies is today's challenge and technology has become the essential aspect in attaining human health. Being technologically competent is being caring, and forms, translations, and transformation through technologies and AI are here to stay. Healthcare robots, environmental adaptations, and dependency on technologies transforming human healthcare mandates a redefinition of health and for nursing to remain relevant.
---
Updated 02/2023